Letter written from the Raritan and Delaware Bay Railroad Chief Engineer's Office, Shrewsbury, New Jersey; April 13, 1861
The U.S. Regular Army and five Union states organized a total of 13 engineer regiments, 1 engineer battalion, and 7 engineer companies for duty during the Civil War. New York furnished volunteers for 4 of these engineer regiments: the 1st, 2nd, 15th, and 50th. An engineer's duties at the time of the Civil War included planning, constructing, and repairing all fortifications and defensive works; surveying and reconnaissance for military purposes; forming a part of the advanced guard to remove obstructions on the battlefield and facilitate the passage of an army; and in retreat, forming a part of the rear guard to erect obstacles, and destroy roads and bridges to retard an enemy's pursuit. The engineers were also called sappers, miners, and pontoniers, terms that describe their main activities. Sappers dug trenches or saps, miners excavated galleries for explosives, and pontoniers built floating bridges across waterways to enable an army or supply train to cross.
THE ORGANIZATION OF THE 1ST NEW YORK VOLUNTEER ENGINEERS
The 1st New York Volunteer Engineers (1st NYVE) was organized through the efforts of Edward Wellman Serrell, a prominent New York civil engineer and Mexican War veteran, who enrolled in the volunteer army at Albany on July 27, 1861, to serve three years. He lobbied in Albany and Washington to organize a regiment of volunteer engineers to supplement the Regular Army engineer battalion. Recruiting efforts began primarily in New York City and northern New Jersey, and some company officers and privates were enrolled as early as August 1861.
On September 27, 1861, Secretary of War Simon Cameron accepted Serrell's offer "to furnish a regiment of volunteer engineer officers and soldiers . . . subject to the approval of [New York] Governor [Edwin D.] Morgan, as one of the quota of twenty-five regiments authorized to be reorganized by him" in War Department General Orders No. 71. 1 On October 2, Cameron wrote to Morgan asking how soon the regiment could be ready to join Gen. Thomas W. Sherman's expedition to South Carolina. On October 3, New Jersey Governor Charles S. Olden agreed to release the recruits in his state to join the New York engineer regiment. Serrell was officially mustered in one week later as the lieutenant colonel of the 1st NYVE and was promoted to colonel of the regiment on February 14, 1862.
However, the volunteer engineer regiments were not officially recognized until an act of Congress, approved July 17, 1862 (12 Stat. 597), stated that they shall be "on the same footing, in all respects, in regard to their organization, pay, and emoluments, as the Corps of Engineers of the Regular Army of the United States." An 1865 Army manual stated that engineer soldiers were expected to be "superior men" and that recruiting officers were "to give preference to the best mechanics and educated men." 2 Thus, as specified by Army regulations, they were paid more than others of equal rank in other branches of the service.
In 1861, most volunteer engineers were mustered in as privates (second class, laborer) and earned $13 a month, just as privates of other branches. However, many were promoted to the rank of artificer (first class, skilled mechanic or tradesman) and earned $17 a month. A corporal in a volunteer engineer regiment earned $20 a month as opposed to $13 a month for service in the artillery or infantry. An engineer sergeant earned $34 a month as opposed to the $17 monthly salary of a sergeant serving in the artillery, cavalry, or infantry. The soldiers' pay was increased by an act of Congress, approved June 20, 1864 (13 Stat. 144), retroactive to May 1, 1864. Privates in all arms of service, including second-class engineer soldiers, began receiving $16 a month. Artificers' pay increased to $18 a month.
War Department General Orders No. 177, dated October 31, 1862, set forth the organization of each engineer regiment. It was to consist of 12 companies (as opposed to the usual 10) with 1 colonel, 1 lieutenant colonel, 3 majors, 1 adjutant, 1 quartermaster, 1 chaplain, 1 surgeon, 2 assistant surgeons, 1 hospital steward, 3 quartermaster sergeants, and 3 commissary sergeants. Each of the 12 companies was to consist of 1 captain, 2 first lieutenants, 1 second lieutenant, 2 musicians, 10 sergeants, 10 corporals, 64 artificers (privates of the first class), and 64 privates (second class).
For the 1st NYVE,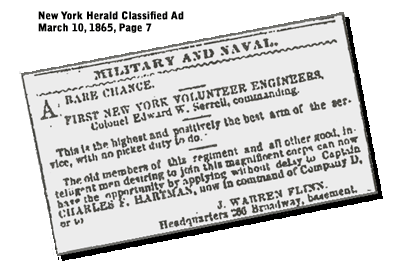 Companies A, B, D, H, and L were recruited principally from New York City.
Company C was recruited from Athens, Hudson, and Cooperstown, NY; Newark, NJ; and Pennsylvania.
Company E was recruited from Kingston, PA; Newark, NJ; and Sing Sing, Poughkeepsie, New York City, and Ulster County, NY.
Company F was recruited from New York City, Brooklyn, Rochester, and Canandaigua, NY, and Newark, NJ. It was initially mustered in as Capt. Samuel C. Eaton's Company.
Company G was recruited from New York City, Canandaigua, and Otsego County, NY. It was initially mustered in as Capt. Israel G. Atwood's Company.
Company I was recruited from New York City, Newburgh, Schuyler's Falls, Mooers Forks, Goshen, Saranac, Piermont, Plattsburgh, Centreville, and Ellenburgh, NY. It was initially mustered in as Capt. Joseph Walker's Company.
Company K was recruited from Newton, Dover, Paterson, Morristown, Stanhope, and Rockaway, NJ. It was initially mustered in as Capt. Henry S. Southard's Company.
Company L became the 4th NY Independent Battery Light Artillery soon after its organization. Per War Department Special Orders 538, dated December 4, 1863, the battery was disbanded, and one commissioned engineer officer and 40 enlisted engineers were transferred back to the 1st NYVE.
Company M was formed from recruits in the field in April 1864. However, the incomplete company was commanded by details of other companies until it was fully organized in April 1865.
Most of the companies were mustered in between October 1861 and February 1862 at New York City for three years of service. The regiment is designated on the muster-in rolls in various forms including the Engineer Regt. N.Y. Vols.; Corps Engineers N.Y. Vols.; and N.Y. Regt. Vol. Engrs. It was also known initially by the name of its commanding officer; thus, it was called Serrell's Engineers.
Companies A to E left for Annapolis, MD, on October 2, 1861. Companies G, I, and K left for Port Royal, SC, on December 14, 1861. Companies F and H left for Port Royal in February 1862. Company L officially began its service in January 1864 when it sailed from New York to Hilton Head, SC.
THE SERVICE HISTORY OF THE 1ST NYVE
The regiment served in Eastern Theater operations throughout the war, primarily in the Atlantic seaboard states. Through April 1862, the regiment served unattached with the South Carolina Expeditionary Corps, starting with Gen. Thomas W. Sherman's expedition to Port Royal, SC, from October 21 to November 7, 1861. The engineers participated in the bombardment and capture of Forts Walker and Beauregard, Port Royal Harbor, and Hilton Head, SC, on November 7, 1861.
Various companies were engaged in the battle at Port Royal Ferry on January 1, 1862, and the skirmish at Battery Vulcan on James Island, SC, on February 4, 1862. Other companies saw action against Commodore Josiah Tattnall's gunboat flotilla when it attempted to deliver supplies to Fort Pulaski, Tybee Island, GA, on January 28, 1862. Starting in February 1862, Companies A, B, D, and F were constantly engaged in building and erecting batteries for the reduction of Fort Pulaski, assisting with the bombardment and capture of the fort on April 10–11, 1862.
In April 1862, the 1st NYVE was transferred to the District of Hilton Head in the Department of the South. Under this command, most of the companies conducted operations on James Island, SC, from June 1 to 28. They saw action on James Island on June 10 and 13. The regiment lost its first man killed in action at the Battle of Secessionville on June 16, 1862 with the death of Artificer Mathias Hoschneider. The regiment evacuated James Island and moved to Hilton Head from June 28 to July 7, 1862. Company C was stationed at Fort Clinch, FL, during this time.
On September 3, 1862, War Department General Orders No. 123 designated the forces in the Department of the South as the 10th Army Corps. Companies F and G made the expedition from Hilton Head to Pocotaligo, SC, from October 21 to 23 to destroy the enemy's railroad tracks and telegraph poles as well as to protect the retreat of Union troops. They saw action at Coosawhatchie and at Colton's and Frampton's Plantation on October 22.
From November 1862 to April 1863, most of the companies were stationed in and around Hilton Head, SC, except C and E, which were in Fernandina, FL, building a five-gun battery; Company F, ordered to Fort Pulaski, GA, to strengthen the powder magazines; Company H, in Beaufort, SC, loading brick for Fort Pulaski, repairing pontoons, and cutting timber for docks; and Company L, on duty with the Army of the Potomac serving in Gen. Joseph Hooker's Division. The companies at Hilton Head worked at building breakwaters along the beach, powder magazines, forts (Fort Mitchell), machine shops, batteries, roads, bridges, wharfs, stockades, and siege materials, in addition to repairing steam engines, the provost guard quarters, and the post bakery. Engineering works continued in May and June of 1863 at Hilton Head, Folly Island, Saint Helena Island, Seabrook Island, Port Royal, and Beaufort. In June, Company K began construction of Fort Duane in Beaufort. These engineers also mounted guns and prepared hospitals.
During the summer of 1863, the 10th Corps forces, commanded by Gen. Quincy A. Gillmore, participated in various assault operations in Charleston Harbor. By July, all companies were serving in South Carolina, and maneuvers on Folly Island against Morris Island and Charleston escalated through the month with an attack on Morris Island on July 10 and assaults on Fort Wagner on July 11 and 18. The greatest number of casualties sustained by the regiment in one engagement reportedly occurred on July 10, 1863 with one man killed (John Montgomery of Co. C) and 24 men wounded (total 25).
The regiment was fully engaged in the siege of Forts Wagner and Gregg on Morris Island and of Fort Sumter and Charleston from July 18 to September 7. Fort Sumter and Charleston were bombarded from August 17 to 23. Colonel Serrell, who had been appointed assistant to Chief Engineer Gillmore in July, designed the plan for a battery platform that was built by the engineers in a bog one mile from Morris Island in effective range of Charleston. The marsh battery, named the Swamp Angel by the soldiers, sat atop 16 feet of mud, weighed 12 tons, and held an 8-inch Parrott rifle that was used to bombard Charleston.
At Fort Wagner, the engineers supported constant fire upon the enemy's rifle pits at Vinegar Hill (called the "ridge") on August 26, 1863, enabling Union forces to capture prisoners there and advance the line to within approximately 200 yards of the fort. The regiment participated in the capture of Forts Wagner and Gregg on September 7 and in another bombardment of Fort Sumter from October 26 to November 9. Through the end of 1863, the regiment erected batteries and strengthened fortifications around Charleston at Morris, Folly, and Kiawah Islands and Beaufort. Company H was engaged preparing materials for an Engineer Depot on Morris Island, SC.
On January 30, 1864, more than 150 men of the Enfans Perdu NY Independent Battalion Infantry (or "German Legion") were transferred to the regiment per Department of the South Special Orders No. 36. Some of these men were detached to Florida at this time to serve with the 1st and 3rd U.S. Artillery. Four of them were killed in action at the Battle of Olustee on February 20.
Most companies remained near Hilton Head, SC, through the spring of 1864. Companies A, E, G, and I were the exception; these men were sent to Florida (Jacksonville, and near Sanderson and Baldwin) to repair railroads and erect batteries, rifle pits, and blockhouses in February and March 1864.
In May 1864, Companies B, D, E, F, H, K, L and M were brought north to become part of the Engineer Brigade, Army of the James, Department of Virginia and North Carolina. General Benjamin F. Butler's Army of the James was composed of the 10th and 18th Corps. On May 1, 1864 the regimental headquarters was removed from Hilton Head, SC and arrived at Fort Monroe on May 4, 1864.
Various companies and detachments participated in several Virginia engagements, including operations on the south side of the James River and against Petersburg and Richmond from May 4 to 28, 1864. The engineers engaged the enemy at Swift Creek from May 6 to 10, and Drury's (Drewry's) Bluff from May 12 to 16. They worked under enemy fire day and night to fortify the line of entrenchments in front of General Butler's forces near Bermuda Hundred, and to build batteries and siege materials at City Point, James Landing, Point of Rocks, Wilson's Landing, and near Jones' Neck and Ware Bottom Church.
The four remaining companies (A, C, G, and I) were left in the Department of the South, where they finished out the war. In May 1864, they were stationed at Morris Island, Folly Island, and Hilton Head, SC, where they were in charge of the Engineer Depot.
Operations on the Bermuda Hundred, VA, front continued from May 16 through June 15, 1864 and were marked by the death of an officer (the regiment lost two officers in service due to wounds received in action, both from Co. K). Henry S. Southard, the captain of Co. K, was wounded in action on May 27, 1864 at Battery 3 near the James River and died of his wounds on June 3, 1864 at Bermuda Hundred.
Engineer companies were then ordered to the front of the 18th Corps, and worked constantly on building batteries for assaults against Petersburg from June 15 to 18. Siege operations against Petersburg and Richmond started June 16, requiring the regiment's skills in sapping, mining, and the construction of a large quantity of siege materials. A detachment of the regiment was present with the 9th and 18th Corps near Petersburg on July 30, for the mine explosion under the Confederate defense works, also known as the Battle of the Crater.
While working to fortify the siege against Petersburg through August 1864, the engineers were again in the line of fire day and night. The regiment lost its second officer, J. Howard Brooks, on August 5, 1864. Brooks, a 2nd lieutenant with Co. K, was hit by a sharpshooter's bullet while in charge of the construction of Redoubt No. 2 on the front line near Petersburg. He died from his wound later the same day at the 18th Army Corps Hospital.
In the fall of 1864, eight companies of the regiment serving with the Department of the Virginia and North Carolina stationed near Varina, VA, worked in building the offensive and defensive works from the southern bank of the James River to the left of Union lines in front of Petersburg, VA. Building projects underway included the construction of Fort Hell before Petersburg, and the Dutch Gap Canal on the James River. These companies participated in the battle outside Richmond at Chaffin's Farm and New Market Heights, VA, on September 28–30 that resulted in the capture of Fort Harrison. On October 27–28 they were at the engagement at Fair Oaks and Darbytown Road in Hatcher's Run, VA.
Department of the South Special Orders No. 353 dated October 6, 1864, called for the transfer of more than 150 enlisted men to the regiment from the 144th NY Infantry. These unassigned recruits were in excess of the legal number of soldiers that the 144th could keep on the muster rolls. When the 144th mustered out on June 25, 1865, the veterans not entitled to be discharged yet were also transferred to the 1st NYVE.
Companies A, C, G, and I, serving with the Department of the South, continued engineering duties repairing forts and batteries at Morris Island, Hilton Head, and Beaufort, SC, through the end of 1864. Their service included the King's Creek, SC, skirmish on July 3; Maj. Gen. John P. Hatch's expedition up the Broad River on November 28–30; and the ensuing engagement at Honey Hill, SC, on November 30. Several men of Co. I were wounded in action at Deveaux's Neck, SC on December 6.
Those companies serving in Virginia spent the remainder of 1864 and early 1865 engaged in engineering duties for lines of defense in the field around Varina, with some sent to Charleston and others to the front with the 25th Corps. Colonel Serrell was mustered out of service on February 13, 1865, in Varina, having served his three-year term. James F. Hall was then promoted to colonel, and commanded the regiment through the end of the war.
In March 1865, a detachment of the regiment built and repaired roads and bridges during the army's march that culminated in Lee's surrender at Appomattox. With the fall of Petersburg and Richmond on April 2–3, a detachment of engineers marched into Richmond to assist in extinguishing the fire that engulfed the city. Other companies marched to Manchester, VA, to camp at the close of the conflict. Engineers of this regiment rebuilt Mayo's Bridge in Richmond in June.
Most of the regiment was mustered out on June 30, 1865, at Richmond, VA. Companies A, C, G, and I were mustered out on July 19, 1865, at Hilton Head, SC.
Casualty numbers vary for the regiment. According to Frederick H. Dyer's A Compendium of the War of the Rebellion (1909), the regiment lost a total of 148 men: 2 officers and 25 enlisted men killed and mortally wounded, and 5 officers and 116 enlisted men by disease. 3 Frederick Phisterer, in New York in the War of the Rebellion (1890), accounts for 145 deaths: 2 officers and 24 enlisted men lost in action or of wounds received in action, and 5 officers and 114 enlisted men lost through disease and other causes.
FINDING AND UNDERSTANDING COMPILED MILITARY SERVICE RECORDS FOR A 1ST NYVE SOLDIER
The compilation of service records of Union soldiers began in 1890 under the direction of Col. Fred C. Ainsworth, head of the Record and Pension Division of the War Department. Ainsworth created the "index-record card system" in order to respond efficiently to the growing number of inquiries from the Commissioner of Pensions and the Second Auditor of the Treasury. A soldier's military and medical history was needed largely for the settlement of pension, back-pay, and bounty claims. The carding process also helped to preserve the original records that were slowly deteriorating from more than 25 years of handling.
Ainsworth chose the muster rolls of volunteers from New York State as the first to be carded in fiscal year 1890 – 91 when his system was fully implemented. The regimental records of the 1st NYVE were received into the copying section on October 29, 1890. More than 32,000 cards were completed by November 19th that year, and the original records were returned to files on December 3, 1890.
Compiled military service records (CMSR's) consist of a jacket-envelope for each soldier labeled with his name, regiment, company, rank in and out, and card numbers. Clerks or "copyists" transcribed information from muster rolls, returns, descriptive books, and other regimental and company records verbatim onto cards. They created a separate card for each entry on the original documents bearing an individual's name. The carded information was then verified by clerks in the Comparing Division to safeguard against errors and omissions. The cards were stamped with a number on the back, and these numbers were entered on the outside jacket containing the cards. Examining clerks arranged the cards in chronological order and made the necessary reference cards to account for all spelling variations of a soldier's name.
A typical service record may also contain original documents pertaining specifically to the soldier. These enclosures are contained in a separate "personal papers" envelope and can include enlistment papers, descriptive lists, casualty sheets, discharge certificates, final statements, orders, resignations, and correspondence. Enlistment forms are often found in duplicate, as several copies were made initially to distribute to other offices such as that of the Adjutant General in Washington, DC. A descriptive list is a form used to reproduce the current status of a soldier's account regarding pay, bounty, and clothing. It was issued to a soldier whenever he left his company for an extended length of time, as for example, when "absent sick" or on detached duty. It enabled an outside official to pay and issue clothing to the soldier based on the information officially recorded on the form. A casualty sheet documents the loss of a soldier who has died, been wounded, deserted, resigned, or been discharged.
Beginning in February 1892, Record and Pension Division clerks entered a notation on the inside flap of the service record jacket to indicate that an inquiry for information had been received, usually from the Pension Office, and that the case was researched. Most inquiries were for a "statement of service," abbreviated on the flap as "S" followed by an assigned case number. The office that made the request, and the nature of the request, was further identified by the abbreviation following the number. Thus, "P.O. Med" meant the Pension Office requested a medical history. Other common notations were "P.O. M & M" for a Pension Office request for a full military and medical history, and "P.O. Aff." for a Pension Office request of affiant or information from the records to support a claimant's or witness' sworn affidavit as part of a pension claim. The abbreviation "QM Hdst," or similar notation, followed by a date indicates that an application had been filed with the Quartermaster General for a government headstone.
The unjacketed "miscellaneous" cards filed at the end of this regiment's records were created mostly between 1894 and 1897. The cards were transcribed from hospital muster rolls and company descriptive books in 1894. On May 15 that same year, the Secretary of War issued an order requiring the transfer to the Record and Pension Office of all records pertaining to the volunteer forces of any war that were in the possession of any other bureau in the War Department. This resulted in a large transfer of records from the Returns Division. A return is a statistical report reflecting the condition and strength of a regiment and detailing gains and losses of personnel. For example, "gains" would include an increase in enlistments, transfers, and those returned from detached duty, confinement or pardoned from desertion. A "loss" would result from officer resignations, and soldiers who had been transferred, discharged, put in arrest due to court martial charges, deserted, been captured, wounded or died.
Carding of the returns of the 1st NYVE was completed by June 1, 1897. Other varied records were carded as late as 1915, such as the addition of War Department General Orders regarding brevet promotions. These "miscellaneous" cards were accumulated with the expectation that they would be interfiled with individual compiled service records. However, the expectation was never fulfilled either because insufficient or contradictory information made it impossible to associate the cards with the appropriate soldier's service record.
CMSR's are part of the Records of the Adjutant General's Office, Record Group (RG) 94, preserved at the National Archives in Washington, D.C. You may order a paper copy of a soldier's CMSR from the National Archives for $25.00 (includes shipping). Visit http://www.archives.gov/order/ for ordering information (use form NATF 86). In addition, the CMSR's of the officers and enlisted soldiers of the 1st NYVE have been microfilmed as National Archives microfilm publication M2004. The 39 rolls can be viewed in Washington, D.C. or at many of the National Archives regional branches.
© Copyright Jacqueline M. Budell, Reproduction in part or whole requires written permission.