WANTED: Unknown Buyer of Trenor's Flag and Documents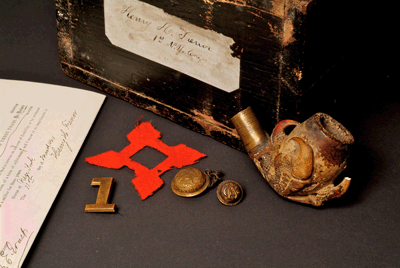 Pictured are personal artifacts belonging to 1st Lieutenant Henry H. Trenor of Companies E, G and F. The black pine box with sliding lid held the smaller items. Box has a period label on one end which is handwritten with Trenor's name and "1st N.Y. Engr's." Inside the box were a cut-out red wool 10th Corps badge, a brass "1" cap badge, a brass NY State veteran frock coat button, a small brass GAR button, and a meerschaum pipe carved in the form of an eagle claw with brass stem fashioned from an artillery fuse.
Trenor enlisted at age 23 on September 1, 1861 in New York City; occupation listed as carpenter. He was mustered in as a sergeant to serve three years. In February 1864, he re-enlisted, and rose to the rank of 1st Lieutenant by the time he mustered out with company on June 30, 1865 at Richmond, VA.
Trenor had been detailed on recruiting duty for the regiment as part of his service, and a 1st NYVE recruiting flag that had been in his possession was auctioned in 2006 to an unknown buyer. The auction lot also included 14 personal documents. If you have any knowledge of the flag's whereabouts, or Trenor's documents, please contact me at Jackie@1stnyengineers.com.
WANTED: Access to the Cyrenius R. Stickle (Co. I) Diaries
Cowan's Auction house in Cincinnati, Ohio recently noted that diaries from Union army engineering regiments are the rarest of all Civil War diaries. I wholeheartedly agree, and that is why descendants of the 1st NYVE are indeed anxious to discover the thoughts and events recorded by Cyrenius R. Stickle in three pocket diaries dated November 1861 through December 1864. Stickle enlisted in 1861 as a private and mustered out after three years of service as a sergeant.
On June 5, 2008, Cowan's auctioned Stickle's diaries receiving $4,500 for these precious pages of history, but their value is absolutely priceless. Being unable to compete with this bid, I am now posting this plea to the current owner to please consider sharing these documents so that we may all learn more about the regiment from this very rare eyewitness account.
Please email me at Jackie@1stnyengineers.com if you are the current owner or custodian of Stickle's diaries. So many researchers, and most of all descendants of the 1st NYVE soldiers, would benefit in a way that only you can provide. Only you can provide us with this unique insight into the sacrifice of our great-grandfathers.
Some discoveries like this simply capture our imagination of another time and place in our nation's history; but sometimes these rare documentary records directly tie us to the events of history along the branch of a family tree.
A few archival treasures simply shine a light on the past for a fleeting few moments leaving an impression on our consciousness, perhaps awareness that wasn't there before. But other rare finds actually leave a fingerprint on our hearts. Please allow these diaries to touch the hearts of many 1st NYVE descendants whose ancestors may have been a part of Stickle's experiences.
© Copyright Jacqueline M. Budell, Reproduction in part or whole requires written permission.