Welcome to the Descendants' Depot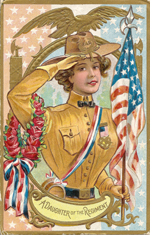 Thanks for visiting! I am 21st century regimental recruiting officer, Jackie Budell, and if you are a descendant of a soldier who served with the 1st New York Volunteer Engineers during the American Civil War, I am very interested in hearing from you!
I hope this site will serve as a gathering place for all descendants and those interested enthusiasts of this first-ever U.S. volunteer engineer regiment in the U.S. Army. I invite you to explore the regiment's history and join us in the discussion forum where meeting other descendants can lead to invaluable discoveries. Your 1st NYVE ancestor can literally come to life through primary sources and the historical record. May this website become an instrument in your genealogy toolkit.
I am the great-great granddaughter of Artificer Jeremiah Fuller of Company K. Jerry was 20 years old when he enlisted on March 28, 1864 at Deerpark, NY. He was mustered in as a private to serve three years. He was appointed artificer to date January 1, 1865, and mustered out with the company on June 30, 1865 at Richmond, VA.
I look forward to telling you more about him in the Discussion Forum and am anxious to read the life stories of all his comrades.
If you have questions, please contact me at Jackie@1stnyengineers.com
******************************
Colonel Edward W. Serrell wrote in his farewell to his beloved regiment in March 1865 that their "… labors, sufferings, achievements … will forever be a bond" between them.
I believe that a bond also exists among the descendants of these brave men, and we gather to remember and learn from them and pay tribute to their sacrifice. If we seek to listen, they will speak to us. The written word endures.
******************************
New York Herald, published March 31, 1865 Farewell Order of Colonel Serrell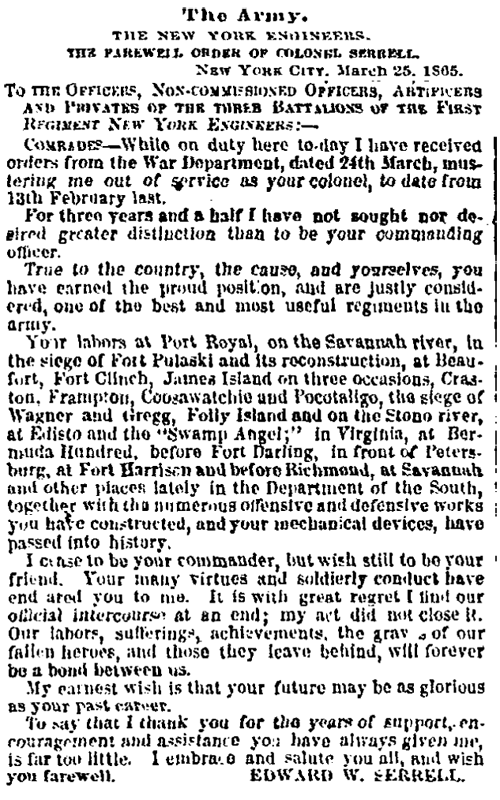 And so the final curtain fell on Serrell's esteemed military career with the 1st NYVE. Click here to witness the beginning.
© Copyright Jacqueline M. Budell, Reproduction in part or whole requires written permission.